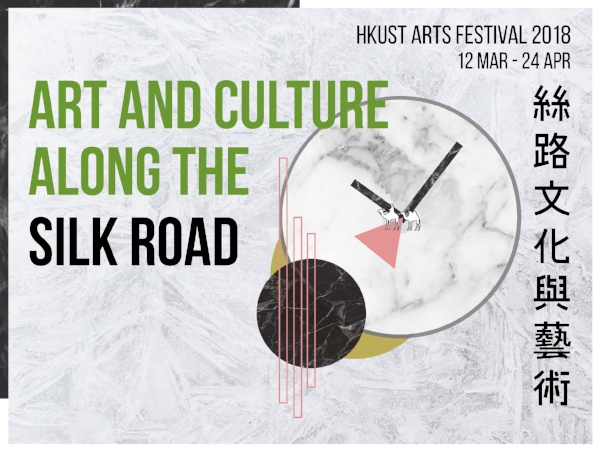 HKUST ARTS FESTIVAL 2018 - ART AND CULTURE ALONG THE SILK ROAD
April and May events
 
To welcome you all back to campus after the term break, the Center for the Arts has arranged more AF2018 events in the coming weeks.
 
The Dance Society will fill the campus with a lot of fun with their heavy beats and energetic pulses right next Monday. Winty Wan and Gilbert Sak will return to give a classical concert featuring European composers of the 18th century. The artists-in-residence, L'Artiste, will run their last demonstration workshop on Baroque music and complete their program with a celebration concert with all the past workshop participants on two consecutive Thursdays.
 
Highly recommended to you is the closing event of AF2018, a Sheng and Piano Duo Recital, which symbolizes a wonderful clash of the East and the West and continues the rich cultural exchanges taken place along the Silk Road centuries ago.
 
Two events will help you explore your creative and inventive impulse: a Calligraphy Workshop to be co-organized with the Library and a visit to HKDI to check out the cutting edge Red Dot Award-winning technology products from the renowned Red Dot Design Museum on display there. Registration is necessary and places are limited for these events!
 
Our spring program will conclude with the annual performance by the Staff Choir in May. In order to give their best performance, members are working hard on their skills and most importantly, they enjoy singing.
 
We are grateful to everybody who has contributed or will contribute to our spring program.
OPENING CEREMONY
Date & Time
12 Mar 2018 (Mon), 1-2 pm
Venue 
Tsang Shiu Tim Art Hall
Program 
1 pm - Opening
              1:20 pm - Xinjiang Dance Performance by Pasha Umer and Friends
 
All are welcome | Refreshments will be served
Details: click here
"THE SILK ROAD" TALK SERIES
EXHIBITION, PERFORMANCE AND CONCERT
SILK ROAD BOOK AND MEDIA DISPLAY AT THE HKUST LIBRARY
A book and media display related to the Silk Road has been set up at the ground floor of the Library. Please drop by to explore and enjoy the many facets of the Silk Road!
---

Presented by
The HKUST Center for Education Innovation and Center for the Arts
 
Acknowledgements
Hong Kong China Tourism Press
Italian Cultural Institute in Hong Kong
The HKUST Library